Pollen Petals® – Petals with a Passion
Freeze Dried Rose Petals as Confetti and Decoration for Weddings, Civil Partnerships and other special Events.
Real petals, which have been freeze dried to remove their moisture, whilst retaining the size, subtle shading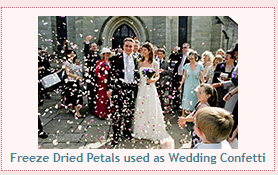 and colour of the fresh petal. Pollen petals are not purchased from another supplier, we make our own using the best quality roses. Freeze drying does not improve the petals so it is vitally important that for us to achieve a great end product we use A1 quality flowers. On arrival the roses are conditioned and treated in exactly the same way as we do our wedding flowers. The roses are allowed time to bloom magnificently and then when they are at their peak we start the process – not before. The flowers we use are traceable to the growers and part of the skill and passion we have for our petals is that the timing of the ordering and delivery means that our petals look as fantastic as they did when they were just cut and delivered to us.
Proms, Society Balls, Fashion shows, Film sets, TV studios and lifestyle magazine shoots have all featured our Pollen Petals.
These petals are colourfast and available in range of beautiful colours and are suitable for a wide range of uses including throwing, scattering or adding to ice sculptures or flower arrangements.

If you want a petal that retains the subtlety of shading and natural look of a fresh rose petal, then freeze dried ones are for you. Other methods such as air-drying can result in a rather shrivelled petal, glycerine 'preserved' petals have a rather unnatural look and feel.
As a process, freeze-drying removes most of the moisture from the petals, but the size of the petal is maintained. The feel of the petal is slightly dry but still soft and delicate.
A great advantage of being able to use freeze-dried petals of certain flower varieties is that it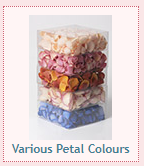 extends their season. Particularly good with peonies and some types of Old English garden rose. It means that we can still use preserved petals and also whole flower heads when the growing season is over. (Whole heads make great decorations for cakes, on top or between the layers). Freeze dried rose petals are perfect for scattering on tables or used to line pathways or aisles. They are also perfect when used to throw as confetti. Unlike fresh rose petals these petals won't wilt or die, and they are available in a wide range of colours.
Petals as Wedding Confetti
We use a lot of fresh petals too for our Pollen weddings, during the summer months though when it is often so hot (we hope for you summer brides!), freeze-dried wedding petals have the advantage of longevity and are a great choice. We know lots of brides around the country contact us and you don't have to be having us to do your wedding to buy our amazing petals! If you are using petals to decorate something yourself whatever the occasion it is nice not to have to leave it until the last minute, another advantage of freeze dried petals, they won't start wilting before your eyes.
---
Our great NEW service for brides!
The Swatch Service – Send us a swatch of fabric from bridal gowns, bridesmaid dresses and saris and we will send back the closest match or choices from the shop. Download swatch form here.
---
Wedding Confetti Petals made by Pollen
With more and more churches and wedding venues now banning the use of conventional paper confetti, the only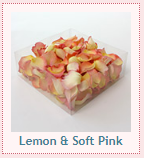 real alternative are freeze dried rose petals and now we are producing them ourselves. They are a natural, biodegradable product, so clean up is easy. In addition, you can use them for flower girl baskets since they are much less likely to stain than fresh petals. our freeze-dried rose petals always make an excellent conversation piece. As to the colours available, we show our stock in the online shop and as well as all those shades, a bespoke colour service is now available. So, if you want your rose petals to be the exact same variety as those in your bouquet, then providing we have at least 3 months notice, we can do this.
Important Information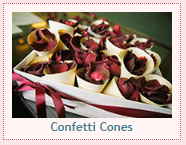 If your not sure exactly the colour you looking for, or indeed what exactly a freeze dried rose petal, rose head or rose bud looks and feels like we recommend you order a sample pack first before committing yourself. We cannot stress how important it is depending on the size of your order and the availability of your chosen colour or colours to allow as much notice as possible. We recommend you order in advance of your function date to be safe! Please don't let this stop you from getting in touch and enquiring though as we try to ensure that we keep a stock of the colours and if for some reason we have sold out the machine is running constantly so we can replenish.
Our Pollen Petals can be shipped worldwide and if you are looking for other suppliers for your wedding or event take a look at our fantastic new Pollen Directory. It has informative articles to help you with your wedding or special event planning. We're passionate about our petals!